Hi lovely,
I have a question for you.
Do you remember how you felt when you were first inspired to take the next step in your career​?
Maybe for you, that meant going after a promotion at work.
Or, quitting your job to start a business.
Or, adding another ZERO to your business revenue…
(Like from 5 figures to 6 figures. Or from 6 figures to 7, maybe even 8!)
No matter WHAT "next step" you wanted to transition to, when you first had this idea…
You were ECSTATIC!
You probably had a rush of ideas flooding through your brain of the different tasks, projects, or people you could include.
And a vision of what it would look like when you reached this new higher version of yourself.
There was energy and life around your idea, and you couldn't WAIT to get started.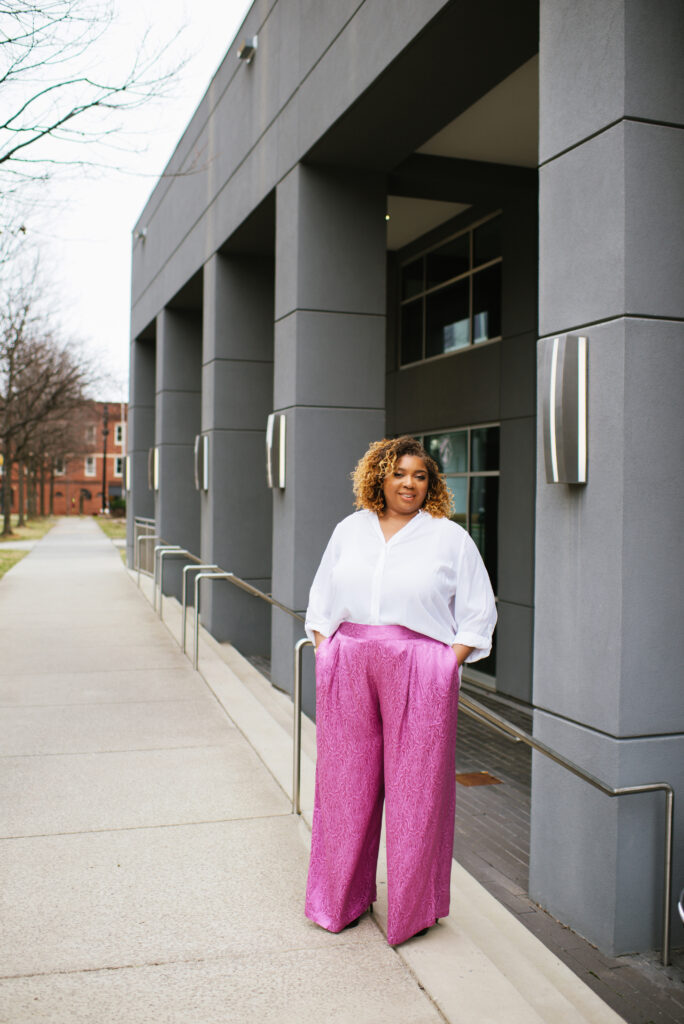 The excitement is gone, and now, ​you're stuck​.
Frozen, paralyzed, confused, overwhelmed, discouraged, and just about ready to give up.
Thinking about the next big step in your career (or your life) used to fill you with excitement, but now you only feel dread.
Your current work no longer fulfills you.
You have NO idea what your "passion" is anymore… even though everyone and their dog seems to have their life figured out.
(Even your dentist is passionate about dentistry. Ugh!)
And you've even started beating yourself up for not moving forward.
If you've been stuck for a while, you may have even begun to believe that you're simply not capable of accomplishing your dreams.
That you're not the kind of person who makes stuff happen and that maybe you should aim for smaller goals.
What happened?
According to psychologists Don Kelley and Daryl R. Conner, you have reached "The Valley of Despair."
For you, that could mean a trauma from your past has creeped into your thoughts disguised as self-doubt and fear.
Or, your desire to be seen as "perfect" is preventing you from even taking the first step—you can't risk making a mistake!
Maybe you're overstating how much work you think is ahead of you, and you "decided" you'd rather keep playing small.
Or perhaps you never really knew exactly WHAT you wanted to do, just that you were ready for MORE.
And without a crystal clear vision of your dreams, you have no idea what steps to take to get started.
Regardless of what the Valley of Despair looks like for you…
The truth is that the vast majority of people who reach this stage end up giving up on their dreams altogether.
But that's where I come in, my dear! Because…
We Both Know You DON'T Really Want to Give Up! (And You Certainly Don't Have to Do This Alone, Either!)
In fact… if you ask the very prestigious American Society of Training and Development, you definitely SHOULDN'T try to make a big life change on your own.
Why is that?
Because having specific accountability appointments with a person you've committed to will increase your chance of success to 95%!!
I'm not talking about asking your husband, wife, cousin, or bestie to reach out to you weekly with, "So… did you do the thing you were supposed to do? No? All right… Well… Do it!"
That won't work.
I'm talking about having regular check-ins with someone who is licensed and certified in the mindset tools, encouraging guidance and result-producing habits that you need…
To go from where you are now (stuck, frozen, ready to give up)…
To figuring out the work you were born to do (using your natural gifts and passions, of course)…
To taking the steps needed to get there (fulfilled, successful, joyful, accomplished)…
Whether that's climbing the corporate ladder,
Starting and growing a business of your very own,
Discovering your passion for the first time ever.
Or REdiscovering a new passion after a streak of success…
You deserve to feel RELEVANT in your own life! ("So what does this even mean, Veronda?" you ask!)
This means discovering and owning the brilliance ​you already possess​.
And using it to create a career that will give you complete control of your own life.
So you'll finally get to enjoy that sweet, sweet FREEDOM entrepreneurs and high-level execs are always talking about!
(Feeling empowered, confident, and powerful in your career!)
To help guide you there, I'm offering a DISCOUNTED discovery call where we'll dive head first into how
you can have what I like to call "​The Relevancy Factor."
I mean, that's why you're here on this site still reading what I wrote here, right?!
See Why Veronda's Clients LOVE Her Coaching and Support…
"The support and guidance that I've received from Veronda Bellamy as a leader has been immeasurable. She has always been my go-to person. ​I trust Veronda with my life,​ as well as the lives of family and friends because of her expertise and her love for being an amazing [coach]!"

T. Totten
"​Veronda Bellamy gives me the confidence I need to KNOW I can achieve my dreams​. She has an essence that exuberates success, knowledge, authority, hard work, and professionalism. She's such an inspiration!"

B. Walker
"[Veronda Bellamy] is ​like heaven meeting earth​. The best of both worlds!"

B.B.
This Call Is Right for You If You Can Say "YES, Veronda!" to at Least ONE of These…
You know that you want to grow in one or more areas of your life, but you don't know what steps to take to get there.
You've got LOADS of ideas, but you don't execute. Something seems to be physically holding you back. Sometimes, you even feel paralyzed.
You were going along fine on the journey to your goals, but then something happened. You hit a wall! And you can't seem to move forward.
You've considered giving up on your dreams because they just aren't happening for you, and you don't know what you're doing wrong.
You're scared of what it would mean if you failed… OR if you succeeded.
You know that your likelihood of success would increase to 95% if you had the advice, guidance, and direction of someone you could trust.
You're ready to do things differently than the way you've been doing them. Starting today, by scheduling a phone call and getting some support!
No matter WHAT'S holding you back, ​if you want to go from stuck to UNSTOPPABLE​, I can help guide you there!
Who Is Veronda Bellamy?
A Few of Veronda's Most Proud Moments and Accomplishments
One of the last people to interview the late Dr. Maya Angelou.
Founder of a nonprofit called ​Bridging the Gap of America,​ which helps individuals restart their lives after addiction and mental illness. Has personally served over 1,000 clients in mental health/substance abuse treatment.
Author of 5-star-rated book, ​The Pain Stops Today: 10 Steps to Discovering Your Purpose.​
Host of a top-rated inspirational podcast reaching tens of thousands of listeners.
Sought-after speaker for women's groups, high school & college students, church groups, corporate & nonprofit groups on "Intentional Living," "How to Go from Stuck to Unstoppable," and "Ten Biblical Principles to Predestined Purpose."
Licensed and certified as a professional counselor who can treat diagnoses including depression, bipolar disorder, mood disorder, TBI, schizophrenia, PTSD, and ADD; but also, a reputable life coach who uses evidence-based practices to help clients improve their overall lives.
Here's How I Help My Clients…
BUT, the First Step Is to…
Download Your Free Copy of my First Book to Discover How You Can Go from Unstuck to UNSTOPPABLE in Your Career—and Life!
'Cause This Is Your Alternative…
Can I keep it real with you for a second, lovely?
If you've read this far down the page, that means something I've said resonates with you.
You most certainly are feeling stuck in at least one area of your life.
You know you're meant for more, but you don't know how to get it.
Here's the deal:
If you keep doing what you've been doing, you're gonna keep getting what you've been getting.
And think about this…
What if you stayed stuck where you are now for another year? What would that mean for your career & your life?
Would you miss out on the opportunity for more revenue & income… like, A LOT more?
Could you be making more of an impact or doing more interesting, fulfilling work…
But instead you'll stay with the status quo, feeling bored during the day and restless at night?
Is it possible that the next phase of your business or job could result in a better work/life balance…
And without taking that step, you are burning the candle at both ends, leading to burnout or a breakdown?
It doesn't have to be like this, friend! You just need some support in your transition to make it happen sooner, easier, smoother.
Your current beliefs, thoughts, behaviors, and habits have gotten you to where you are now.
To get where you're going, you're gonna need some new ones. Let me show you how.
Click any button on this page to schedule your free consult today!
During which, we'll discuss what you need to do to reach your specific goals.
This will help you feel grounded, clear, and confident in your ability to make your dreams happen!
If it seems like we'd be a good fit to work together, we'll talk about that. If not, we won't. ​Simple, right?
Either way, you'll gain a clear understanding on what your next steps should be AND you'll walk away with my eBook, ​The Relevancy Factor Blueprint.
An extra bonus gift for you. : )
In this eBook, I'll walk you step-by-step through the mental shifts required to prepare for the next growth phase of your life.
So what are you waiting for??
Schedule Your Consult to Discover How I Can Help You Go from Unstuck to UNSTOPPABLE in Your Business—and Life!
More Happy Client Praise…
"It has been such a pleasure to work with Veronda. She is relentless in her pursuit to help others–like her–stop the pain today. Having been a survivor of domestic abuse in my marriage and molestation as a child, it couldn't have been more fitting for Veronda and my path to converge when it did. I've witnessed her launch a new business, author a book and land Dr. Maya Angelou (sadly, one of her last appearances) as a guest on her podcast–all within one year–among other great accomplishments. Veronda is an amazing woman with so many gifts. Her message and story will inspire you…will encourage you to find your silver lining story…and will help you stop the pain today."

Berni

,

National Speaker
"Veronda Bellamy is all about her business and her family. She is able to hone in on her desires and make them realities. She is determined and head strong when it comes to her passions in life. Knowing her more than 15 years, I have seen her growth personally, professionally and most impressive of all spiritually. Her crafts as a multi-talented professional are skyrocketing. Are you on board to support her or get left behind? She is incredibly strong and has a foundation of friends and family that love her. She respects her husband, admires her mother, and adores as well as guides her siblings. I am blessed to know Veronda Brooks-Bellamy, a woman, a leader! Cheers!"

D.D.Dudley
"I have had the pleasure to know Veronda for a little over 10 years and she is an amazing woman! Veronda's Wisdom, Knowledge, Honesty and Determination have landed her in a position that is destined straight for success! Veronda is an inspiration to my life and I am proud of her and I wish her all the success as she deserves it! Many Blessings!"

L. Nichols
"I have utilized Veronda Bellamy Inspired life coaching services. She is an awesome life coach! I recommend Veronda Bellamy Inspired for those that are stressfully struggling with planning their day. Her assistance has provided me with the tools to manage my time, schedule my day and prioritize."

S. Alexander